Dear Friend,
I love Christmas… it must be because my name is Carol. Ha ha.
The real reason is that I was blessed to grow up in a festive, loving family, and have many beautiful holiday memories of us being all together…
And I'm so grateful to enjoy the opportunity to be with friends and family at the holidays. (My husband and I will be hosting 16 of our nearest and dearest for dinner here in our little Christmas cottage!! )
And even though I LOVE presents (what girl doesn't?), it goes without saying that the "presents" I like best are the PRESENCE of those loved ones… and the love we share. And not the "stuff" that comes in the pretty wrapped packages with bows on top.
So – at the risk of sounding corny, the greatest "present" I could possibly give you is something to help you enjoy the "presence" of LOVE in your life – and get more of that good stuff all year long.
So below I'm sharing a link to my favorite interview of 2011, in which I was fortunate to be a guest on my friend Amy Ahlers' "Big Fat Lies Summit" in which she and I had a fantastic conversation about love, sex, and soulmates, and all the ways single and partnered women can have MORE fun, joy, and connection, and stop beating themselves up and hurting themselves so much in the process.
We covered things like:
The #1 and #2 big fat lies that keeps single women single (and makes them miserable the whole time)…
Big, fat lies about "The Law of Attraction"…
How your astrology is similar to your DNA…
Men's #1 big fat lie…
Big fat lies in sex (that might make you MARRY the wrong person, or run from the right person!)…
Big fat lies about soulmates (and why he can FEEL like a soulmate, but still make you miserable… ugh)…
I even shared hugely personal things about my own life that I've never shared anywhere before, like:
An amazing "wrong" relationship I was in before I got married (and the big, fat lie that made me almost miss it)…
The biggest, fattest lie I have in my love life now…
Amy is a wonderful interviewer, and shared so much beautiful wisdom from her coaching work, new book ("Big Fat Lies Women Tell Themselves and Believe") and happy marriage, and we had a ton of laughs.
The interview will take a minute or so to download, and lasts about an hour. Don't worry – it won't try to sell you anything, and we don't pitch anything new… I just genuinely want you to have it, and think you'll enjoy it.
You'll Also Get A Free Bonus Book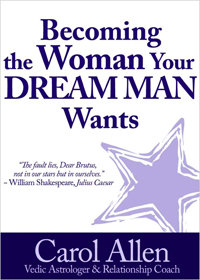 You'll also get my FREE sixty-one page Bonus Book entitled Becoming The Woman Your Dream Man Wants in which I share the very best success tips and techniques from the "self-effort" files of love to ensure you'll find, attract, and keep Mr. Right.
A great primer for singles, and reminder for ladies who've already found HIM, this book covers all the ABC's of what men want and WHAT WORKS WITH MEN no matter your age, weight, status, finances, etc. Just implementing SOME of these ideas has dramatically improved the lives of women I've worked with time and time again, and I KNOW they'll work for you, too, and I can't wait to share it all with you!
In Becoming The Woman Your Dream Man Wants you'll learn…
The Top Three Reasons a high-caliber woman like you would have a low-caliber social/romantic life – how to turn these around… pgs. 4 – 5
Why bending over backwards and doing whatever a man wants, will virtually GUARANTEE he won't marry you – once you understand WHY this is the truth you'll never do this again! pg. 48
How to get your "mind right" before you can find THE ONE. pgs. 9 – 18 ('cause really, this is a BIG piece of the pie and can't be explained quickly!)
Why every time you think of HIM you're literally creating brain pathways dedicated to HIM – how to "refire" and "rewire" your brain to work FOR YOU to keep you on track to getting to your love goals… pgs. 13 – 15
How to know if it's okay for you to call a man first – 'cause sometimes men (but only CERTAIN men – I'll help you to tell if a guy's one of these or not) will be so glad you did… pgs. 43 – 44
Why having a "spiritual" connection with a man can lead you to HUGE heartbreak – what to do… pgs. 29 – 31
How to QUICKLY TRUST what you REALLY know in your gut about a man – and instantly cut through all of your brain chatter and doubts ('cause we always know, don't we?) so you can focus on the RIGHT men and avoid the WRONG ones… pgs. 31 – 36
Learn how to go from a "soup kitchen girl" (taking a man's crumbs – or worse, starving for love…) to a "banquet babe" (in which the world is FULL of TONS of great men at every turn for you to choose from). pg. 6
Why all those best-selling books that say to NEVER make the FIRST MOVE with a man are DEAD WRONG, and why it just might get you married! I'll tell you the best way to approach men you're attracted to… pgs. 43 – 46
How to let a man reveal himself so you'll know if he's generous enough and MAN ENOUGH to be the one for you… pgs. 46 – 47
Thank you for the gift of your "presence" in my life… it means a lot.
Until next time, may God and His planets and stars shower you with love!
Carol Allen
P.S. Please feel free to pass this along to anyone you love, too…