Use the Secrets of Astrology AND Real-World Relationship Advice to Make The Most of Your Romantic Destiny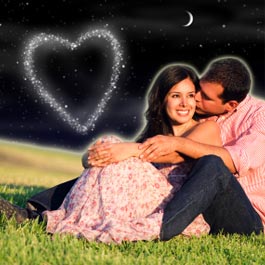 If you want answers about when you'll ever find "The One," who he is, or how to make a relationship work with the man you've already given your heart to, then I have some important questions for you.
Are you afraid that you may have missed your chance for love and are destined to end up alone?
Have you ever felt like you just can't go on one more date? That it's a waste of your time because you never meet anyone you like (and if you do, they never seem to like you back!), and you're sick and tired of getting your hopes up for nothing?
Do you find yourself mystified by the way your man doesn't seem connected to you anymore when you used to be so close, and you have no idea what to do to reconnect with him?
Are you anxious about your past, looking back with regret at a guy who you fear may have been your guy if you'd only done things differently?
The Answers You Seek Are Written In The Stars
If you're like most women, you've answered "yes" to one (or several) of these questions. Let me assure you, you are NOT alone! I myself could have said "Yes" to each and every one at some point in my life, too.
Here's the very good news: your challenging journey in the "jungle of love" is not all your fault. There is something "bigger than you" at work, and you have now found that "bigger than you" source.
That's right – astrology.
There's a plan outside of your personal will and control that is separate from your actions that can explain why you've not yet found what you truly want or have had such bad luck and heartbreak.
But You've Only Been Getting A Small Piece of The Whole Astrology Pie
Have you ever asked a man his birth date when you started dating him, so you could check out your compatibility in an astrology book or on an astrological website? If your experience with a man didn't jive according to what you read, then you've been another sad victim of "pop astrology."
The truth is that much of what is delivered up to the masses as astrology is mere entertainment: a watered-down version of this vast, complicated body of knowledge that doesn't do it – or relationships – justice. I see women make massive mistakes due to misunderstanding the seriousness and complexity of astrology.
In fact, it is especially dangerous because you can learn some compelling insights that can seem so true and helpful, reading about how your sign goes together with that of the man in your life, and about him and what he should be like, but you never get at what's really going on.
And more importantly, you never learn what to do about it.
Astrology For Wise Women
The majority of my clients are college-educated, successful, smart women who don't normally do something as "woo-woo" or "alternative" as turn to something like astrology for answers.
And yet – once they have a taste of how it can help, and they experience its wisdom and power for themselves, they don't have to wonder if this stuff really works anymore. It just does.
Guiding You To Your Celestial Bliss
So – not to toot my own horn or anything, but after twenty years of studying and practicing astrology, and after working with thousands of women – coaching them privately and in seminars – many were able to dramatically transform their romantic circumstances quickly using the eternal, universal philosophies from the wisdom of the stars.
I practice the oldest, most predictive system of astrology in the world – Vedic Astrology of ancient India – which is astonishingly accurate in the area of relationships and has been used for thousands of years with great success to arrange marriages. And yet there's still another piece to the puzzle…
The Blessing Of The Stars Is Not Enough To Have A "Heaven Sent" Relationship
Years ago I got so frustrated talking to women just about their stars because it became overwhelmingly obvious to me that they needed so much more help than just what astrology could provide.
They needed to know WHAT TO DO with men – how to create attraction, how to communicate, how to ask for help, how to set boundaries, how to hold out for "Mr. Right", and on and on.
After many years of giving readings I finally couldn't stand it any longer. I began giving seminars, teaching women the truth about how to get along with men – any man of any sign! I was quickly able to help women from all walks of life turn their love lives around for the better. It worked so well and so quickly that even I was amazed.
The Wisdom of The Stars + Relationship Tools That Work
Drawing on these two sources is truly the one-two punch every woman's love life needs – knowing how the stars can work in your favor when it comes to men and relationships (what I call the "grace" aspect of the love equation) and how you can help yourself by knowing how to get along with men and make him feel great around you at the same time (what I think of as the personal "will" aspect).
When you know how to use the magic of the stars combined with the right tools and insights that work with men, then your destiny can finally bring you the kind of effortless, loving relationship I've helped other women enjoy.
"When you know how to use the magic of the stars combined with the right tools and insights that work with men, then your destiny can finally bring you the kind of effortless, loving relationship I've helped other women enjoy."
The result of all of my years of coaching women, working as an astrologer, interviewing relationship experts, and leading groups of women in seminars lead to writing my eBook Love Is in the Stars.
Here are just a few of the things you'll learn from Love Is In The Stars:
A man's Sun sign tells you next to nothing about how he'll be in a relationship with you. (Instead learn the single most important aspect of his personality that will show you his true ability – or lack of ability – to be a great partner.) – pg. 17

The power of timing in your love life and why you must be in a "celestial season of love" to find love, no matter what else you do. – pg. 153

The trick astrologers use to instantly read people without using charts or birthdays that will "jumpstart" your understanding of men – NOT with the signs of the zodiac but something much more important – Planetary Personality Types! – pg. 12

The true key to a man's heart (and why you'll often see a man pick the woman you'd least expect – because she figured this one out) – pg. 75

The planetary reason that over half of the women of the world are late bloomers in love – finding and having their heart's desire when they're no longer young. So if you're over thirty-five and still single, it's not your fault and you haven't blown your chances – your dreams of love will be fulfilled in the future! – pg. 165

How to protect yourself from the damaging pitfalls of false "astrological assumptions" and the truth that people born under the same sign – or even on the same day – are often nothing alike. – pg. 20

The most effective way to communicate with a man – screw up this one and he'll run for the nearest exit – but do it right and you can say anything to him and he'll listen. pg. 69

Why astrological compatibility is only the fourth needed thing to create a stellar relationship with a man – learn the three more critical keys (that happen to jive with the most rigorous marriage study ever done) – pg. 64

Why 50% of divorces are a colossal waste that could easily be avoided – I'll tell you how to "divorce-proof" your marriage (or "break up proof" your serious relationship) so it doesn't become another sad statistic unless it's truly the right thing to do. – pg. 70

Why it's not enough to have all the stars above be shining on your love life – the most important thing for romantic happiness is up to YOU. I'll tell you what to do. – pg. 68
If you're an open-minded woman who loves spiritual truths as well as practical, hands-on information, and you're ready to do what works with men – no matter what your relationship status – then this book is for you.
One of the best things about my eBook is that you can enjoy all the benefits of astrology and how it plays a huge role in your love life without you having to have any experience whatsoever with astrology.
Special Bonus: Free Interview With Enlightening Expert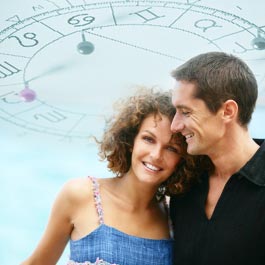 When I first got on a spiritual path, I found many amazing sources of inspiration and support in addition to astrology. My monthly Interviews With Enlightened Experts program is aimed to help you benefit from this spiritual wisdom – things like palmistry, numerology, shamanism, Feng Shui, tarot, different healing modalities, and dream analysis.
Many of these practitioners charge thousands of dollars to work with privately, or can't be accessed personally at all, so to have access to their wisdom and insights in this intimate way is a special privilege.
To get this bonus interview, check the "Yes!" box on the second page of the cash register.
If you love it, keep it and you can stay subscribed and receive a brand-new empowering interview each month. You'll be automatically billed just $19.97 (plus $3 for shipping if you live outside of the U.S). You can cancel anytime (and still keep the free bonus), for any reason and with zero hassle.
Read Love Is In The Stars
If you're ready to harness all the grace in the stars above, and start living the kind of love life and relationship you know is possible but you just can't seem to find yet – then I'm so excited to share with you the best of what I've learned in my life's journey of helping women just like you find their heart's desire with the right man.
When you click on the button below, you'll be taken to a secure order page where you can download the eBook.
I'm sharing a tremendous amount of cutting-edge research information, tips, techniques, and ancient wisdom, so I know you'll refer to it regularly as you're learning how to be more successful with men.
The stars have all aligned at this very moment to bring the Grace of higher wisdom to your love life today – but it's up to you to exercise your Free Will or not.
You have SO MUCH more power than you know to create and keep whatever it is that you want with that special man for you… I promise!
Love Is In The Stars eBook
Your Romantic Destiny Revealed

You will discover:
The truth about your astrological sign and his
Real-world relationship advice you can use now
If your temperaments match for fun and friendship
The four critical keys to creating a stellar relationship
And may God and his planets and stars shower you with love!