Mar 11, 2015
Comments Off

on Harrison Ford – OMG…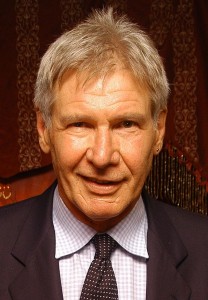 I'm sure you've heard the startling news that Harrison Ford had a scary emergency landing on a golf course last Thursday in Santa Monica while piloting a small vintage plane.
Unfortunately, the plane had clipped a tree before landing, and the golf course had soft, muddy soil so it didn't land well… resulting in Harrison sustaining a few not-so-fun injuries, including (according to Wikipedia) a broken pelvis, broken ankle, and serious laceration to his head.
Luckily we've come to learn he's expected to be fine, which is pretty miraculous, given what could have happened. And given that, you know – he's Han Solo.
Yes, he's STILL Han Solo – the famed pilot from the
Star Wars
movies, which first seared Harrison into the collective consciousness of the nerds of the world before he went on to become Blockbuster royalty many times over. He just filmed a new
Star Wars
movie last summer, reprising his career-launching role.
(Amazingly, actors seem to be given roles that are destined in the stars… Harrison is a perfect example – he's a major pilot in real life, and he came into his fame playing a pilot!)
I went to USC for my Freshman year of college, and was loosely acquainted with Harrison's son Ben, who has been keeping the press abreast of his father's condition via Twitter. (He was a Sigma Chi, and I was a "little sister" – which was code for, I got to go to all the cool parties and hang out with the cute guys. Ah, the good old days! Kidding, honey!)
Living in L.A. is a bit like living in a small town…
My husband has his Experimental Aviation license, and regularly flies a powered parachute, also known as an ultralight. Think Chitty Chitty Bang Bang (without all the candy and singing) – or, better yet, picture a flying lawn mower with a big propeller on the front and a parachute on top, that won't cut your lawn but will put big tire tracks on it.
Yeah… it's crazy.
My husband likes to say of flying, "There are old pilots, and bold pilots… but no old, bold pilots." To him, flying that WWII fighter plane was Harrison being an old, bold pilot.
When we first heard the news of Harrison's crash, my husband was agog. "What is he thinking flying a 75-year-old single engine plane that should never leave a museum?!"
Oops.
(Now, if you're thinking – "What? And he thinks cruising around in a flying lawn mower is smart?" I gotta admit you've got a point there.
Statistically powered parachutes are far safer than being in an ancient fixed wing plane, and much safer than any other kind of experimental aviation, like ballooning, hang gliding, jumping out of airplanes in squirrel suits, etc. Yes, you can find the squirrel suit idiots on YouTube. None of them are old, I can assure you!
My husband is also blessed to have his very own personal astrologer – uhum – who checks the celestial energies when he wants to go flying, and grounds him from time to time, making him that much safer.)
This isn't Harrison's first flying scare. He crashed a helicopter years ago while doing practice landings, and had a close call with a plane due to severe weather, causing him to have another (less dramatic and injurious) emergency landing.
It's worth mentioning, however, that he's been honored and awarded multiple times for his flying, receiving the Living Legends of Aviation Award and EAA's Freedom of Flight Award in 2009, the Wright Brothers Memorial Trophy in 2010, and
Flying Magazine
ranked him number 48 on their list of the 51 Heroes of Aviation for his volunteer work rescuing hikers lost in the wilderness near his home in Idaho via helicopter.
Not bad…
His beautiful wife, the actress Calista Flockhart (of
Alley McBeal
and
Brothers and Sisters
fame), has been holding vigil by his side, and has supposedly laid down the law that he can no longer fly – other than with the aid of green screens.
It's hard to blame her, but she needn't worry. The guy has some seriously lucky and safe stars, helping him always be (just about) fine.
(The person who came to his aid, who just happened to be "right there" golfing at the time of the brutal landing? A spinal surgeon, who got Harrison out of the plane, knowing just how to position his neck and body so as not to harm him! And who also knew to put dirt on the fuselage, ensuring the plane didn't explode. See? Even when he's unlucky, it's under the best of circumstances.)
And Harrison and Calista have some of the strongest "meant to be/we can get through anything" compatibility I've ever seen.
Let's go to the astrological vault, shall we?
THE BLESSING IN HARRISON'S STARS…
In astrology, there are many ways to determine if someone will be physically protected and live long, or if someone will be accident prone.
Harrison has several combos that are excellent both for longevity and for safety.
The planet of protection and blessings is Jupiter. The indicator of the body and health is the Sun, and the planet that rules the first house. (Every sign has a planet that "rules" it.)
When together in the same sign and house in a chart – Jupiter with the Sun and/or the "ruler" of the first house (which is dependent on what sign is in that house) – they bless the person with safety and luck.
Harrison has both – he has Jupiter with Mercury, the planet that "rules" his first house, situated in the sign of Gemini with his Sun (this is according to the calculations of Vedic astrology, which differ from those of Western astrology by almost an entire sign).
There is a house in a chart that promotes blessings and protection, too – the 9th house (there are 12). And when this house happens to have the planet that rules it also sitting in the 9th house, it's extra strong and protective to the person.
Harrison has this also.
Not only that, he has Jupiter – again, the planet of safety and protection – aspecting his first house. And he has the ruler of his first house also aspecting his first house – which is excellent for longevity.
Mercury is the most important planet in his chart, since it's the ruler of his rising sign (Virgo), and therefore the foundation influence of his life, and it's extremely powerful in his chart, forming something extra special called "Bhadra yoga" – which in Sanskrit means "Blessed."
Here's what an ancient Vedic texts says of someone born with this auspicious combo (Arnold Schwarzenegger and Bill Gates have this, too):
Bhadra "blessed" Yoga
Mercury in an angle (houses 1, 4, 7, 10), and in its own or exaltation rasi (Gemini or Virgo).
"The native is splendorous like a lion and walks with the gait of an elephant.

 

"Bold, independent, valorous, and righteous, he is a protector of his family. A high-spirited king, he is diligently devoted to the befriending of kinsmen and well-wishers. Sensuous, he is fond of luxuries and comforts, and his friends share in the enjoyment of his wealth. Very rich, and firm in prowess, he will lead men. He is skilled in all the arts, clean, praised by the learned, and of firm mind with respect to his own business.
"Learned in all respects, he is well versed. He will be adept in expounding the sacred lore. Of keen intellect, he is eloquent and clever. He will live happily with his wife and children, he will be an emperor of the whole earth. Displaying commanding genius, enjoying vast fame and extensive wealth, and women, etc., he will always be happy and die at 80 (or 100) at a holy place and ascend to the abode of the Gods."
It is said that "Bhadra yoga" is one of the most powerful things a chart can have for success. (Did you catch that little line about being "emperor of the whole earth"?)
HARRISON AND CALISTA
I read an old interview with Harrison in which he said that his wife Calista enjoyed flying with him, as did their son, Liam, and that she loved to see how happy it made him.
Fortunately for both of them, she should easily make him happy, and vice versa, on terra firma as well.
When I look to the most important compatibility technique in all of astrology (used for centuries to arrange marriages in India, and that is the foundation of the Right Man Report), it's clear why they are reportedly very happy after over a decade together – an eon in celebrity years.
(They met at The Golden Globes in 2002, and have been married since 2010. She is his third wife.)
This technique is broken down into fifteen steps – five of them are the most critical, and three of them are the most special. Then, a couple receives a series of mathematically calculated points that reveal their "wavelength score" indicating how much they can understand each other and agree on things.
Calista and Harrison receive just about the highest "wavelength score" a couple can get – 35 points out of 36 points possible. I've never seen any couple receive more than 34. Anything above 20 is considered excellent.
When "wavelength" points are that high, it's effortless for the twosome to agree on things. So, if she doesn't want him flying anymore, it's likely he has already decided the same thing. And if not, they should be able to find a compromise they can both be happy with. (My hubby would gladly teach him how to fly in his lawn mower, but I don't think they'll be getting from Santa Monica to Idaho in that thing… but I digress.)
The other lovely thing is they have a whopping two out of the three possible "soulmate" connections included in the technique.
One is called "Innate Giving" and they have it mutually, meaning they both like to do things for each other beyond the normal supportive, loving things couples do. This one can be just from one person to the other in a couple without being mutually felt, but Harrison and Calista are fortunate to have this go both ways, making them BOTH more than happy to knock themselves out to please each other.
The other extra special connection they share is called "Sense of Purpose." This makes even otherwise incompatible couples feel that they have a strong shared destiny, and that their life together is filled with meaning. In their case it would seem that raising her son (who she adopted the year before meeting Harrison) has certainly been one way this has manifested for them.
(Harrison had four children between his two prior marriages, and says he loves being a father again to Liam.)
Even having just one is considered enough to make two people feel that magical, "I can't live without this person" feeling. To have both "Innate Giving" and "Sense of Purpose" ON TOP of their amazing wavelength score is incredible.
Then, they get the highest points possible for communication. This is called "Sensibility" in the report, and also blesses a couple with the ability to easily agree and understand each other. Not only that, the woman easily feels comforted by the man when she is upset, and he knows just how to make her feel relief. Ah…
Yup, Harrison Ford is a lucky man… lucky to be alive, and lucky to be married to a woman who is perfect for him.
I wish him a speedy total recovery and that he be a little less bold, and I wish her peace of mind.
If you'd like to know such things about your own relationship (or potential relationship) – you can!
This technique is used in a 9 – 11 page compatibility report called "the Right Man Report."
Do you and the man you're wondering about have a high wavelength score (or do you have a hard time agreeing on things)?
Do you mutually support each other, or is one of you knocking yourself out more?
Do you have a Sense of Purpose that will grow and last, or will this connection you feel be fleeting?
Find out! It's all right
here
.
As for me, I'm going to go snuggle up to my "young, timid pilot" of a husband now… (just kidding again, honey! About the timid part, I mean).
Until next time, may God and His planets and stars shower you with love (and safe landings)!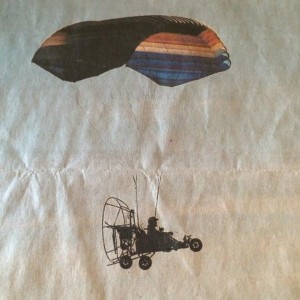 My hubby in the sky… 

P.S. It's interesting to note the timing of all of this… Harrison is not in any heavy Saturn cycles but Calista is. She has the Sun in Libra, and the rising sign of Scorpio. Saturn has been sitting in the sign of Scorpio (for the first time in 30 years) since November, and was in the sign of Libra for three years prior to that.. 

She's technically in the last two years of the seven and a half year "Saturn/Sun" cycle. In this long cycle, it's common to have more worries and concerns and problems with the main men in your life. (Saturn brings losses, separations, and all around pressure, and the Sun indicates the men closest to us.)This makes a person more likely to feel burdens and duties and responsibilities, with less nurturing and comfort available to them… 

It's also, however, when we find out how strong we are, and when we deepen our spiritual understanding. 

To discover when you are in big-time high pressure Saturn cycles, and how to best navigate them so that they go more smoothly (some are good for love and success, some utterly block it) go here.